Catholic values permeate all aspects of pastoral care in our school. Our focus on pastoral care ensures acceptance, justice, peace, hope, respect and celebration for all members of our community.
We believe good pastoral care is exemplified by:
creating a community in which all students feel happy and safe;
high quality teaching and learning which recognises individual differences and meets the learning needs of our students;
high expectations of students' performance, encouraging confidence and positive self-image;
recognition of the dignity, self-esteem and integrity of each person.
Students are involved in activities to raise awareness of Social Justice and actively support Caritas Australia, Catholic Missions and St Vincent de Paul.
Living Well, Learning Well Framework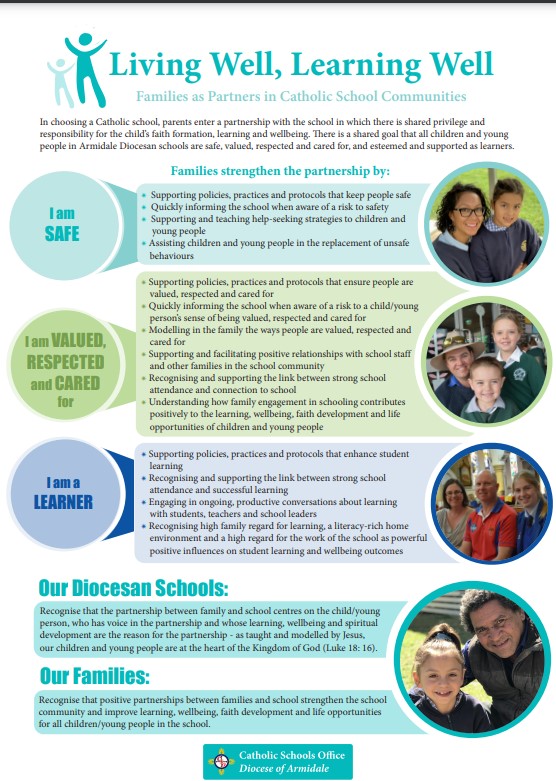 Student Welfare
Our school endeavours to promote a happy, supportive and safe environment for all children. We recognise that student welfare is a shared responsibility between home, school and the community.
Student Leadership
At St Francis Xavier's, student leadership involves opportunities which encourage students to
take on responsibility with integrity and honesty
be active, reflective listeners who respond effectively
model Christ-like behaviour living out our school motto
co-operate and work together in a spirit of collaboration.
Leadership opportunities for students include:
School Captains
School Vice Captains
Prefects
Sport House Captains
Sports House Vice Captains
Student Representative Councillors
Stage 3 Leadership days
School Buddy Program